PROJECTS
Project Golden Orangery Marrakech
Basic information:
ScandMar acquired 50 % of SwedMar Marrakech S.A.R.L. which owns a property situated just outside Marrakech. The property will be developed into a tourist and residential project with high standards.
• Size of the property 185,000 sqm. (18,5 hectares) – the property is an orange farm with 15,000 trees. As many as possible trees will be kept to preserve the beautiful gardens.
• The property ahs a prime location close to Marrakech, situated in a calm area only 5-10 minutes from the Amelkiss, The Royal Golf and only 15-20 minutes from the centre of Marrakech.
• The property has a beautiful view to the majestic Atlas Mountains.
• 105 villas in six different seizes will be built.
• Hotel with 80 rooms, Spa, gym, restaurant, bar, large pool and tennis courts.
• Collaboration between high class Swedish and Moroccan architects.
• Target market is the Moroccan, Nordic and European countries.
• Estimated start of production in March 2010.
Please visit www.orangerymarrakech.com for more information.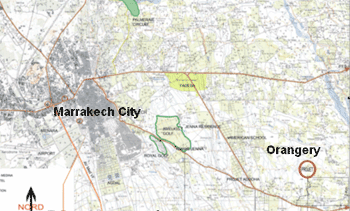 Location of Golden Orangery Marrakech.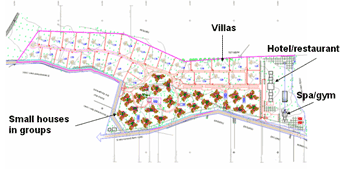 Overview plan of Golden Orangery Marrakech.