PLAN AZUR - VISION 2010
• The development of the tourist industry has been very strong during the last few years with extensive development of and investment in hotels, tourist centres and related infrastructure.
• The government is strongly committed to the further development of the tourism industry and the opening up of the country towards Europe. There is a clear and concrete interest to attract Scandinavian and Northern European tourism to Morocco.
• ScandMar representatives have personally met with the tourist ministry and minister of investment in Rabat, a governor in the north of Morocco and the Moroccan Ambassador in Stockholm, who all express the same view.
• The government has established a plan "Plan Azur" which sets out the "Vision 2010" for the future tourism development. A very ambitious plan targets an increase of the number of tourists from approximately 6,5 million today to 10 million per year in 2010.
• Other objectives and stated numbers defined in the plan for year 2010 are:
– The creation of 600,000 new jobs in tourism sector.
– Almost 160,000 new hotel rooms in order to achieve a total capacity of 230,000 beds
. – Investments in tourism of more than 9 billion €during the period up to 2010.
– Six major new coastal resorts to be developed.
– About 1,000 km new roads to be constructed.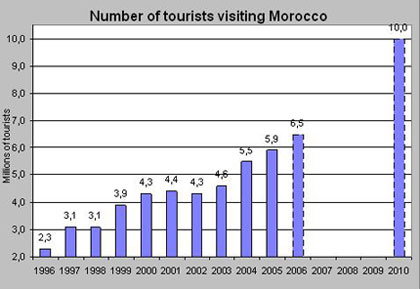 The tourism industry has been singled out as the most important success factor for the development and economical growth of Morocco.